Short Pier Productions proudly presents
NORMAL VIEW V:
V IS FOR FIVE
March 31 - April 2, 2006
Good evening, Champaign-Urbana. It is the thirty-first of the third, and this is the Voice of Fate broadcasting to you from the Siebel Center on the medium band. Citizens are advised that Storm Saxon will be delayed throughout the weekend to bring you the following selection of classic films approved by the Ministry of Information...
NORMALVIEW V: V IS FOR FIVE
Yes, it's that time of year again-- when we take up arms against a sea of crappy movies and heckle them until we can't breathe. Come join us for a slice of improvisation, laughter and horror in the style of MST3K as we direct our verbal violence with valor and verve versus the most vile and vacuous films we can view.
Friday, March 31st (2405 Siebel)

7:00 PM: Queen of Outer Space

As we've learned in previous festivals, Mars features angry red dinosaurs and angry red oxygen consumption gauges. Venus, however, has Zsa Zsa Gabor. Ever wonder what Amazon Women on the Moon was making fun of? Now you know.

9:00 PM: The Creeps

From the people who brought you Scanners and Crash and Burn comes this heartwarming tale of lovable midgets: namely, midget Frankenstein, midget Wolfman, midget Dracula... Need I say more?
Saturday, April 1st (4403 Siebel)

1:00 PM: Sword and Sorcerer

If a sword is a phallic symbol, then what's a three-pronged sword that shoots rockets? Maybe a symbol that the effects department is trying too hard.

3:00 PM: Double Dragon

Even the combined might of Robert Patrick, Paul Dini, George Hamilton, Andy Dick, Vanna White, and Alyssa Milano will not be enough to save this one. Are you a bad enough dude to sit through this movie?

7:00 PM: Golden Munchie Showcase: Batman and Robin

Sean has a confession to make. He watched this movie once, and in his weakness has stayed away from it ever since. Help Sean finally conquer Arnold Schwarzenegger by thoroughly roasting the worst film in the Bat-franchise.

9:00 PM: War of the Planets

What do you get if you mix independent filmmaking, computer technology, and 50s-style science fiction? Apparently, space sasquatch. This one is not to be missed, folks.
Sunday, April 2nd (4403 Siebel)

2:00 PM: Viewer's Choice

Continuing the grand tradition of last year, YOU bring the movies, YOU vote for the movies, then YOU suffer the consequences.
The Viewers' Choice was: Day the World Ended, featuring the Professor from Queen of Space learning why you don't let a gangster into your bomb shelter.
Also, as a special treat, we'll be showing segments of R. Kelly's Trapped in the Closet between films. Marvel at this masterpiece of modern musical storytelling.
To follow the intricate plot of Trapped, Normal View is pleased to bring you this handy flowchart that was created over the weekend as characters and plot twists were revealed: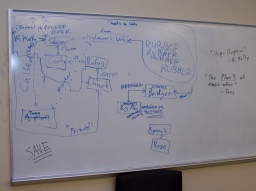 Click for a larger version.
"Audiences should not be afraid of their movies. Movies should be afraid of their audiences."
Chambana prevails.